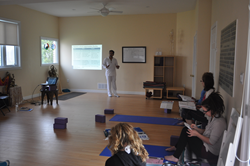 (PRWEB) December 19, 2014
For those called to a healing vocation but seeking a deeper, subtler understanding of health and healing, as well as those already employed in the health care industry and eager to expand and diversify their approach to health and healing, Integrated Health Yoga Therapy (http://www.ihyt.org/) has created a new 180 Hours Holistic Health Consultant Certification, bringing together IHYTs world-class faculty of leaders in their respective fields and profound integrative approach to present a wide-ranging yet user-friendly program of weekend modules incorporating Ayurveda, Macrobiotics, Oriental Medicine, Nutrition, and Physiology.
IHYTs Holistic Health Consultant Certification spans 8 Modules run approximately 1 weekend per month (Saturday and Sunday from 7 am to 5 pm) from February to October 2015. Specific dates and daily schedules can be found at http://www.ihyt.org/holistic-health-consultant-certification. All Modules take place at IHYTs Hamilton-Stoney Creek, Ontario location. Information on accommodations, travel arrangements, meals, amenities, and more can be found at http://www.ihyt.org/logistics-hamilton.
Macrobiotic expert and natural health counsellor, teacher, and researcher John Kozinski (http://www.macrobiotic.com/) who will be teaching 2 of the Modules, notes how balance is a unifying principle in various holistic health disciplines. Within the principle of balance health expands beyond the notion of disease and treatment to a highly individualized context of optimal health. Diet, lifestyle, exercise, environment, personal outlook and coping mechanisms–balance within all aspects of life is sought out and constantly re-evaluated. Hence while individual symptoms and ailments can and must be addressed, there is a profound shift from a focus on disease to a focus on wellness, from just not being sick to being deeply and joyfully well.
According to Traditional Chinese Medicine practitioner and educator Angela Warburton (http://www.angelawarburton.com/), part of her initial attraction to TCM was its focus not only on the body and symptoms but also on the mind, emotions, lifestyle and the spirit of the individual. All aspects of equal importance: the balance of being human. TCM, dating back more than 2,000 years in China, is an alliance of medical practices with certain common principles used to maintain or restore a sense of harmony within the bodys functional systems. Healing modalities include herbal medicine, acupuncture, massage, exercise systems, and dietary therapy. Included in her Oriental Medicine and Nutrition Module are basic principles of TCM such as Qi and the meridian system, an exploration of the energetic properties and actions of particular foods, and an examination of how to assess requirements for and deficiencies in certain nutrients as well as prescribing medical recipes for clients with specific health problems.
Nitin Shah (http://www.goodlifeayurveda.com/), a native of India and practitioner, philosopher, and teacher of Ayurveda for more than 25 years, is one of a very few Postgraduate Ayurvedic Doctors residing in North America. He represents an ancient Indian system of holistic health and natural healing which dates back over 5000 years. [Ayurveda] is an art and science of life and wellbeing. It includes the use of plant-based medicines, diet, aromatherapy, massage, meditation, detoxification programs, and other treatments.