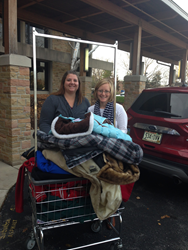 Wauwatosa, Wi (PRWEB) November 15, 2014
AlignLife of Wauwatosa is a community-minded office and looks forward to their annual coat drive every October. "We are always excited to have the opportunity to help others," said Dr. Sara Mahalko, owner of AlignLife of Wauwatosa. "Our patients start asking at the beginning of summer about the coat drive."
AlignLife of Wauwatosa held their annual coat drive in October. They collected over 25 coats and several pairs of mittens as well. The coats and mittens were donated to a local organization called Tosa Cares. Tosa Cares is an all volunteer organization which collects non-perishable food items, personal care items, clothing and school supplies for distribution to families in need.
"We absolutely love being able to help those in need and having a coat drive is just one way that we are able to give back to this wonderful community," says Dr. Katie Sam.
AlignLife of Wauwatosa is located at 8812 W. North Ave in Wauwatosa. Their office hours are Monday – Friday 8am to 6pm. You can find them on the web at AlignLife.com/Wauwatosa or call their office to schedule an appointment with one of their highly skilled doctors, (414) 774 – 2300.
ABOUT ALIGNLIFE

AlignLife is a chiropractic and natural health franchise founded in 2007 with the mission to provide the highest quality of natural healthcare services to communities around the nation. The integration of chiropractic with other natural health services has proven to save time and money while reducing the hassles of dealing with the complex American health care system. AlignLife is operated by founder and CEO, Dr. Joseph Esposito and President, Dr. Cristina Esposito. For more information or to find a clinic new you go to http://AlignLife.com.