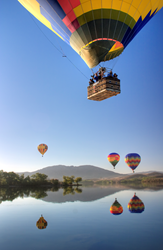 Temecula, CA (PRWEB) March 05, 2014
TEMECULA VALLEY Southern California Wine Country, March 4, 2014: Temecula Valley Southern California Wine Country celebrates Summerfest from May 30 through Labor Day. Linger on less busy weekdays and wrap midweek around the Balloon & Wine Festival, Old Town Farmers Markets, summer concerts, Fathers Day, Street Painting/Plein Air Art Festival, Fourth of July, Hot Summer Nights, Pechanga Pow Wow, Microbrew, and Competitive Barbecue Festivals, encourages Kimberly Adams, Temecula Valley Convention & Visitors Bureau president and CEO. More days equal more fun with Sunday-Thursday hotel and resort lower nightly room rates. Enjoy outdoor adventures, seasonal restaurant menus, artisan foods, and wineries new releases. Sunny afternoons are cooled by Pacific breezes, stars fill night skies, and ocean mist drapes early mornings. Welcoming 2 million visitors yearly, the picturesque Temecula Valley is 60 minutes from San Diego, Orange County, and Palm Springs and 90 minutes from Los Angeles and Hollywood.
1-Temecula Valley Balloon & Wine Festival (May 30-31; June 1).

Evening hot air balloon glows are a must-see experience and Monte de Oro Breakfast with the Balloons is inspiring. Reserve passenger flights at dawn aboard one of 40-50 hot air balloons floating over wine country. Festival attendees enjoy award-winning wines, food pairings, and concerts (Justin Moore, 3 Doors Down, Gin Blossoms; reserved seats available).
2-Old Town Temecula California-Certified Farmers Market (May 31; June 7-14-21-29; July 5-12-19-26; August 2-9-16-23-30).

A Friday night stay yields Saturday morning convenience to this open air marketplace where locals and travelers can find locally grown tree-ripened cherries, peaches, apricots, and nectarines.
3-Summer Concerts, Signature Wine and Live Music Events in Temecula Valley (June-July-August-through Labor Day).

Thornton Winery Champagne Jazz talent has included Michael McDonald, Kenny G, and Boz Scaggs. Monte de Oro, South Coast, Wiens, and Wilson Creek wineries (Phil Vassar, July 27; The Parrotheads, August 22), and Pechanga Theater (Air Supply, June 7; Wynonna, July 12) have ongoing concerts. Old Town Temecula Theater has the Andrew Lloyd Webber Spectacular on June 22. Wineries (Baily, Bel Vino, Callaway, Cougar, Danza, Europa, Falkner, Keyways, Leoness, Lorimar, Miramonte, Oak Mountain, Ponte, Robert Renzoni, Thornton, Wilson Creek) and Old Town wine-tasting rooms (Curry, Fazeli, Lorimar) host wine and live music events, while the Merc features jazz, country and chamber music.
4-Vintage 2014 Fathers Day: Temecula Valley Wine Country (June 15).

Begin the morning viewing Doffo Winerys motorcycle collection. Winery dining options abound: enjoy brunch at Creekside Grille and grilled/barbecue fare at Lorimar, Ponte, and Vineyard Rose. Dozens feature wine tasting why not try Robert Renzonis new Villa. Old Towns Gambling Cowboy, Third Street Smokehouse, and Front Street Bar & Grill are dad pleasing. Also try Temecula Olive Oil/Old Town wine tasting. Evening fine dining is Pechangas AAA Four Diamond awarded Great Oak Steakhouse or all new Umi Sushi. Temecula Creek Inn offers Bunkers & Barrels overnight packages (whiskey tasting, golf for two), or begin Monday with a hot air balloon flight at dawn (reservations required).
5-Temecula Art Festival, Old Town Temecula Street Painting Festival, Ralph Love Plein Air Festival (June 20-22).

The Art Festival features fine artists and talented, young artists works. The Street Painting Festival is grand performance art; 140 artists create vibrant murals to 100 square feet/30 square meters. Popular with impressionists (Monet/Renoir), fine artists paint traditional canvases in plein air (open air). On Sunday at 3 p.m., view muralists/painters completed works and dine in Old Town, or celebrate Monday with a hot air balloon flight at dawn or a hike in Santa Rosa Plateau.
6-Pechanga Barbeque Festival (June 21).

Competing teams season, sizzle, baste, and slice beef/chicken/pork in the KC Barbeque Society (KCBS) California state championship. Challengers use best grills and cookers, and techniques/tricks. Observing is encouraged as it helps improve cooking skills. Attendees can taste and vote while enjoying live music and the wine and beer garden.
7-Premium Varietal 4th of July: Old Town Parade, Temecula Valley Wine Country, Fireworks.

A Thursday night stay yields a leisurely breakfast before the patriotic parade. Post-parade, dine at winery restaurants (Bel Vino, Leoness, Maurices, Monte de Oro). Reserve in advance for award winning wine tasting (Briar Rose, Wiens) or a tour (South Coast). Savor any of many wine-tasting room experiences or enjoy dinner at Caf